[ITAMI]
Measures against torrential rain at Osaka International Airport
With an increase in rainwater runoff caused by the expansion of the airport runways and aprons as well as urbanization of the area around the Inagawa River, Osaka International Airport and the surrounding communities suffered extensive damages, such as flooding of the terminal and the residential area, during the torrential rains in 1994, 1997, and 1999.
To mitigate these flood damages, Osaka Prefecture and the national government constructed a flood relief tunnel to temporarily hold the rainwater exceeding the drainage capacity (49 mm per hour).
Flood relief tunnel
The inner diameter is 5.8 m, and the total length is 1.8 km. It can retain 45,000 m3 of water. Once the water level of the main drainage channel goes down, the water stored in the tunnel will be pumped out and released into the main drainage channel.
(Construction started in 2005 and completed in February 2008; the use started in July 2008)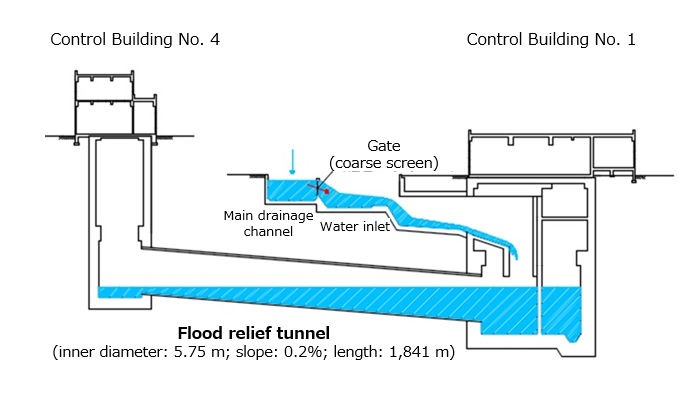 Flood relief tunnel

Inside the flood relief tunnel
Considering the recent climate change, Kansai Airports also created a new emergency discharge channel in May 2021 to further protect against flooding from torrential rains. The company installed a system that monitors the water level in the drainage channel and automatically sends out an alert, which has enabled prompt actions to be taken to prevent water from flowing into the passenger terminals.
These measures have reduced the risk of flooding at the terminal in the event of torrential rain of 133.5 mm per hour, the highest level previously recorded.
Emergency discharge channel
The inside diameter is 1.2 m, and the total length is 460 m. Incoming water will be released to the apron area, which is wider than the service road and the parking area.
(Construction started in 2020; construction completed and the use started in June 2021)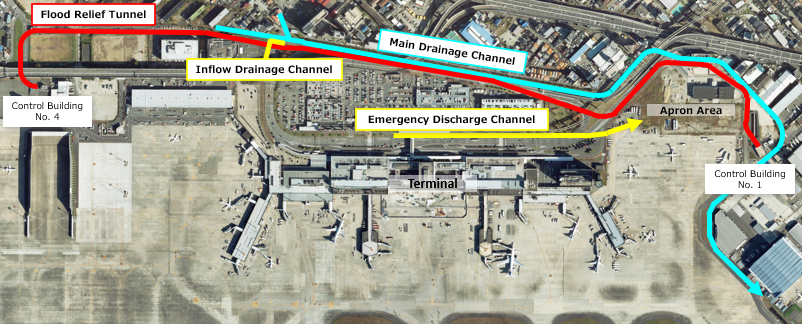 Location of the flood relief tunnel and the emergency water discharge channel