[KIX]
For the safety aircraft operation
When we only had one runway, we had to provide maintenance within the limited time period of 2.5 hours three times a week. Since the opening of the second runway in 2007, our maintenance time was able to increase. Therefore, from December to August 2008, we repaired the entire surface of the first runway for the first time since the opening of the airport in 1994. The first runaway, damaged after its 13 years of use, has gone through a thorough maintenance process, and can now be used safely and comfortably.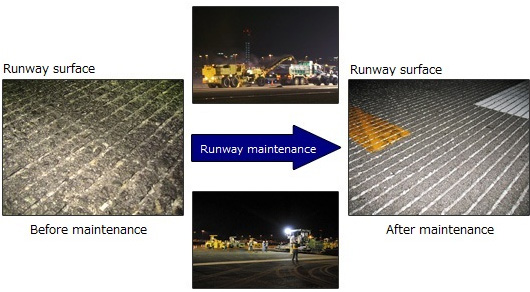 Characteristics of maintenance project
A thorough maintenance plan and safe 24-hour operations
We adjusted the maintenance timetable of the first and second runway to achieve 24-hour operations. Additionally, to cope with the two runways operating in the day time with numerous flights, we scheduled maintenance work during the night time.

Increasing surface thickness to keep the runway secure
Since the opening of the airport in 1994, the first runway has undergone some deterioration. In addition, runway rainwater drainage performance decreased because of the uneven settlement of the airport island. To solve this problem, we overlaid an average of 25cm of new surface material, where the quantity of asphalt amounted to 160,000 tons.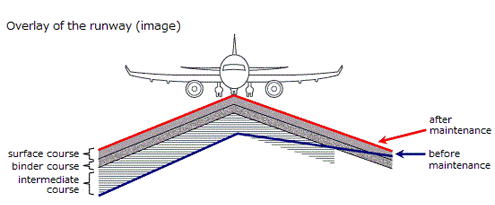 We adopted "large-sized grain asphalt" for runway use in the daytime.
To shorten the work schedule and to keep daytime flights on schedule during the construction period, we increased the surface of the runaway by using large-sized grain asphalt.