[KIX]
High-cost performance aeronautical lights
In the second phase of the project, we adopted high-cost performance aeronautical lights and overseas products, such as runway lights, taxiway lights and others.
1. Introduction of LED devices
We adopted LED (light emitting diode) lighting for taxiway lights, the first time in a domestic airport.
The electricity consumption of LED devices is only 1/3 of what halogen ones consume, and their lifespan is 50-100 times longer, ultimately beneficial for the global environment.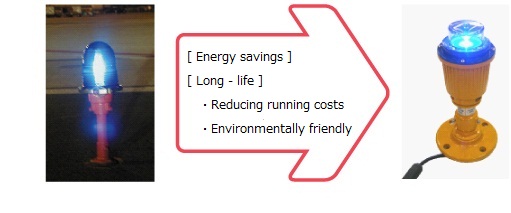 2. Development of original upper base of aeronautical lights
We developed the upper base of aeronautical lights, making the design small and simple. By downsizing our work, the efficiency improved and its production became easier by reducing its cost.