[KIX]
Legible customer information signs
The following improvements were adopted on information signs in the passenger terminals to make them clearer and more familiar to passengers from a wider number of countries.
1. Enlarged fonts
Fonts (Japanese) on general signs are enlarged.
2. Signage in four languages
Most signs are in Japanese, English, Chinese, and Korean.
3. Color coding
International service signs are dark blue, domestic signs are deep red, commercial facilities signs are green and the rest of the signs are grey.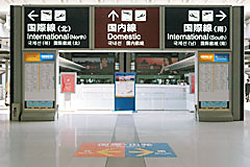 <Font sizes and color coding
(Kansai Airport Station concourse)>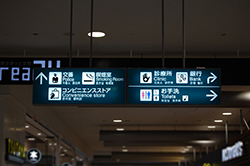 <Signage in 4 languages
(Passenger terminals)>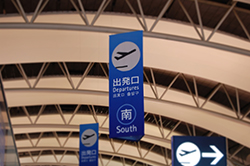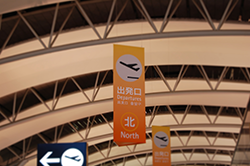 <Giant banners are erected and are color coded (4th floor, passenger terminal)>