At large airports, such as Kansai International Airport, baggage checked at the check-in counters by passengers traveling abroad is sorted automatically by destination on the departure baggage conveyor system for loading on to the aircraft.
On rare occasions, however, bags may get left behind or get lost temporarily or completely, and cannot be collected at the destination airport.
To reduce the incidence of lost baggage, airlines and airport operators around the world have introduced RFID tag *1 with embedded IC chips and antennas, which can be attached to baggage for the purposes of reliable and efficient baggage management.
Kansai International Airport is also an active participant in initiatives such as these, and is striving to simplify travel systems for increased convenience.
Overview the activity
Since 2003, Kansai International Airport has been involved with ASTREC *2 and has taken part in the following activities.
Evaluation trial and international standardization activities for RFID tag use with check-in baggage transport
*1 RFID tags: Electronic tags with embedded ID information
RFID tags have embedded IC chips and antennas. The tags are attached to the baggage, and when they pass antennas fitted to the baggage conveyor system, location information is scanned from and written in the chips. Attaching these tabs also enables baggage information to be determined, such as establishing whose bags are where and what checks they have passed.
Conventional barcode tags in use today are unable to store data while they are in transit, and cannot be fully scanned automatically. The use of RFID tags will be able to reduce the incidence of lost baggage.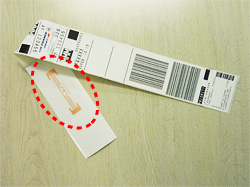 <IC chip and antenna (RFID tag)>
*2 ASTREC(Advanced airport Systems Technology Research Consortium)
This is an authorized corporation under the control of the Ministry of Land, Infrastructure, Transport and Tourism, made up of airport operators, airlines, luggage delivery companies and RFID technology companies. It was established in 2003, and began conducting research using airports for the provision of trials and work towards international standardization in establishing RFID technology in next-generation airport systems. Its activities ceased in May 2008. ARTA, an unincorporated association for promoting and furthering the use of RFID in airports, is the successor to ASTREC, and continues to work on the use of RFID for improving airport convenience and security. (Completed.)
1. Evaluation Trials and International Standardization Activities for RFID Tag Use with Check-in Baggage Transport
As a member of ASTREC, two rounds of trials were carried out at Kansai International Airport. Data was collected in these trials to improve the underlying technology and the system itself, and was a major contribution towards a practical application of the system in the airport.
Kansai and Hong Kong airports: Reciprocal scanning trials under a practical environment – the first of its kind in Japan (carried out in fiscal 2005)
Kansai and Paris airports
Based on the results of the trials at Kansai International Airport, ASTREC submitted recommendations for modifications to the specifications for RFID tags to IATA*3 and petitioned the Ministry of Internal Affairs and Communications and the Ministry of Land, Infrastructure, Transport and Tourism for the preparation of legislation to set radio frequency bands for RFID use.
Below is a video of the RFID tag proving trials.
RFID tag proving trials (wmv file)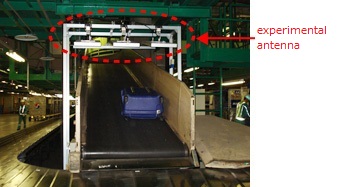 *3 IATA(International Air Transport Association)
IATA is an airline, travel agency and allied industry organization.
2. Activities Aimed at the Early Adoption of a "Hands Free Travel" in which Passengers Travel from their Home to their Destination Airport Unencumbered by Luggage
By entrusting baggage to a delivery company from the passenger's home address to the airport or destination hotel "hands free travel*4", the need to carry heavy luggage to the airport and wait in long lines to check it in is eliminated.
In order to make hands free travel a reality, the delivery companies, airport baggage companies, airlines and other different industries will need to use RFID technology to link owner information, ticket information and baggage location information, etc. to manage baggage with their existing systems.
Based on the results produced by ASTREC, etc., Kansai International Airport is striving to create a system that will enable the promotion and expansion of hands free travel based on assured security levels, and link multiple companies.
*4 Hands Free Travel (Hands Free Travel is a registered trademark of ASTREC.)
Baggage with RFID tags affixed is entrusted to a delivery company at the passenger's home, enabling the passenger to collect the baggage at the destination airport. ASTREC carried out proving trials at Narita International Airport from March 2004 to March 2005 and both JAL and ANA offer hands free travel services on some international routes.